JoJo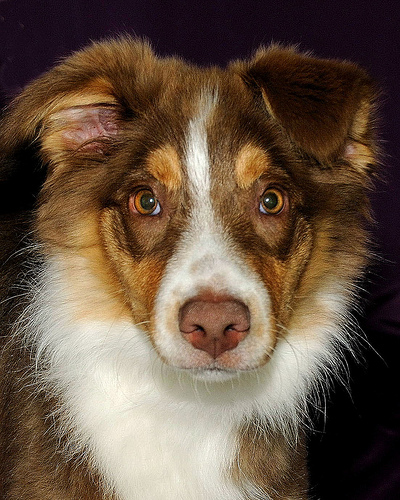 Update: On Friday, August 7, 2009, JoJo underwent life-saving surgery to repair her heart defect. All went well during the operation, after which her heart murmur was immediately reduced from a level 6 to a level 2. Following a lengthy surgical procedure and an overnight stay at the veterinary hospital, she returned to her foster home for the balance of her recovery.
It is expected that the heart murmur will further diminish over the next two months. JoJo will continue with medication for a three month period and will have a follow-up x-ray and examination at that time. She is now 4 months old and grows by the day - as you can see by the picture above - only now with a mended heart.
JoJo's operation was indeed vital to her survival; however, such a complicated surgery is also a very expensive one. The SPCA of Western Quebec is still in need of donations of approximately $4,000.00 in total to pay for JoJo's operation. All contributions would be greatly appreciated and applied directly to this expense. Donations are accepted online at our main webpage via Canadahelps.org, as well as at the shelter address via mail or in person.
Meanwhile, our appreciation is extended to all of you who have donated to date to save JoJo, including Lianne and Cliff, who held a yard sale at their bed and breakfast, the Black Lab Inn, to raise funds for JoJo's operation. They know first-hand the importance of such heart surgery, as they adopted Casey (formerly Sadie) nearly 2 years ago, a pup who required and received the very same procedure, thanks to public support and donations.
(JoJo's original story follows below.)
JoJo, an Australian shepherd puppy, was born on March 28, 2009. At the age of 5 weeks, her owner, a local breeder, brought her to the SPCA of Western Quebec to surrender her to the shelter, and indicated she had not eaten in the past few days. It was obvious from her inability to stand that she was in distress and immediate action was required.
Fortunately for JoJo, shelter staff was able to provide her with a soft diet and fluids and she responded to their care. Subsequently, during her exam with the veterinarian, a significant heart murmur was detected. A follow-up visit with a specialist, including an electrocardiogram, confirmed a diagnosis of PDA, or patent ductus arteriosus. JoJo requires life-saving heart surgery as soon as possible to repair this congenital defect before her heart fails.
The SPCA of Western Quebec has had experience in an animal with this condition and the success of such a surgery. In September 2007, another pup known as Sadie was surrendered with her siblings, and was found upon examination to have this defect as well, which results in a hole in the heart remaining open instead of closing prior to or shortly after birth. Sadie received this surgery in time, and continues to thrive in her adoptive home.
Now for JoJo, the SPCA is in need of donations to provide a chance for her to survive, as time is of the essence for her. Her surgery is estimated at over $4,600.00, not including any follow-up medical expenses after surgery, nor does it include a recent electrocardiogram, which cost approximately $475.00. All contributions would be greatly appreciated and put directly to JoJo's care.
Thank you.